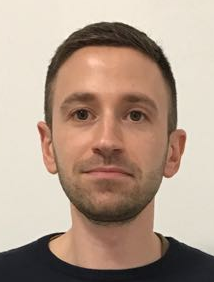 Topic: Social robotic telepresence with sliding autonomy (ESR 7)
Email: andre.potenza@oru.se
Supervisors: Prof. Alessandro Saffiotti, Prof. Amy Loutfi
---
Andre Potenza received his Master's degree in cognitive science from the University of Osnabrück in Germany. He is currently a PhD student at Örebro University, Sweden, where he studies social robotics. His research interests include human-robot interaction, AI and other sciences.
Research
Within the SOCRATES project, my specific topic is sliding autonomy in mobile robotic telepresence. Mobile robotic telepresence denotes the social interaction between two or more people across large distances via a mobile robot. The user (or operator) remote controls the robot in its environment. Through the use of a webcam, microphone and loudspeakers, the operator is able to be 'present' in the environment and interact with other people (local users). The main challenge to mobile robotic telepresence is being able to simultaneously maintain an engaged and purposeful interaction and control the robot, which may be particularly difficult for unskilled users. By introducing sliding autonomy I intend to provide mobile telepresence robots with the ability to automatically measure operators' difficulties while steering the robot and, if necessary, take over the task of navigation, thereby removing this burden of multitasking and allowing users to fully concentrate on their social interaction.
Publications
Kiselev, A., Potenza, A., Bruno, B., Loutfi, A. 2017. Towards Seamless Autonomous Function Handovers in Human-Robot Teams 26th Ro-MAN 2017-IEEE International Symposium on Robot and Human Interactive Communication.
Potenza, A., Kiselev, A., Loutfi, A., Saffiotti, A. 2017. Towards Sliding Autonomy in Mobile Robotic Telepresence: A Position Paper ECCE 2017-European Conference on Cognitive Ergonomics.
Potenza, Saffiotti, A. 2018. One Robot and Two Humans: Some Notes on Shared Autonomy in the Case of Robotic Telepresence IJCAI2018, Workshop on Autonomy in Teams
Video