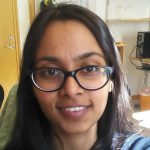 Topic: Intention driven dialogue management (ESR 6)
Email: maittewa@cs.umu.se
Supervisors: Dr. Suna Bensch, Dr.  Johanna Björklund, Dr. Kai-Florian Richter 
---
I am a PhD student in Umeå University, Sweden. My current research is on Spoken Dialogue Management Systems for social robots.
Prior to joining as a PhD , was working as a Data Analyst for a fintech startup in India called Prototyze.
Academic qualifications : Worked as a Research fellow in Indian Institute of Technology Delhi, India.
Masters Degree in Computing Science and International Business from University of Dundee, Scotland.
Bachelors in Information Technology from SSITM, Bhilai, India.
My upbringing and schooling was done in Allahabad, India.
Have traveled across India for educational purpose and exploring the rich culture every region in India offers.
Apart from research I spend time listening to music, playing guitar, learning origami, talking to people and pencil sketching.
My favorite 'We humans are born to do only two things eating and sleeping, rest are the demands of civilization and society' :).